On April 1st, my little April Fool turned a year old. To celebrate that, we went out to lunch at our favorite Thai place (which the Baby Beast loves - the spring rolls fit perfectly in his little hands).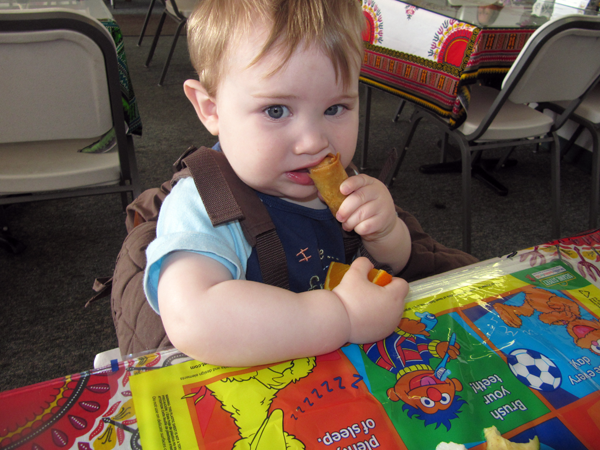 Once we were full, we headed out to the Oklahoma City Zoo (a long enough drive that the birthday boy was able to get in a nap). Both the Husbeast and I love the Zoo (especially since they're continually upgrading the habitats to be better for the animals) and the Baby Beast seemed to enjoy it, as well.
Spring was in full bloom at the Zoo, and while it was windy (and Oklahoma norm), it was also 80-something degrees, making it perfect Zoo weather.
The baby and I spent at least fifteen minutes sitting beside an artificial stream in the Children's Zoo, playing with rocks and resting our feet in the cool, chlorine-scented water.
He could've happily spent the entire day there, I think, and had it not been such a popular spot with the other children, I would've let him. Unfortunately, older kids wanted to splash and throw the river rocks, and it just didn't seem like a safe place for a 12-month-old to stay for long. So we bid adieu to the wonderful little stream and headed back out into the Zoo proper.
We met a few of the touchable Zoo denizens (even if the most the Baby Beast could ever manage was to point).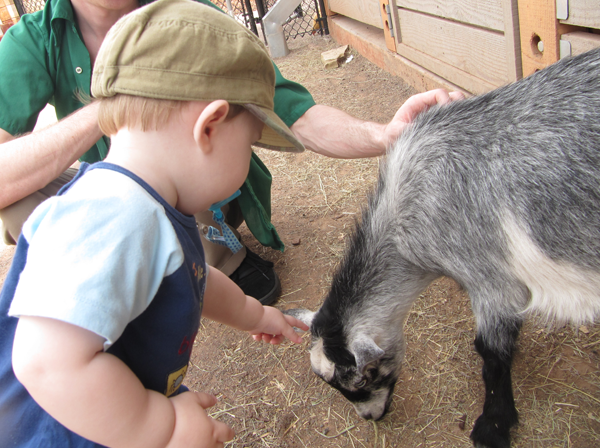 By the end of the day, the Baby Beast was more than ready to head home... and, of course, fell asleep during the drive again.
I made a raw cake for him, since I'm still not comfortable giving him cow's milk in any amounts, and eggs and wheat only in small amounts. The Un-Chocolate Mousse Cake was delicious, and looked as good as any homebaked cake I've seen.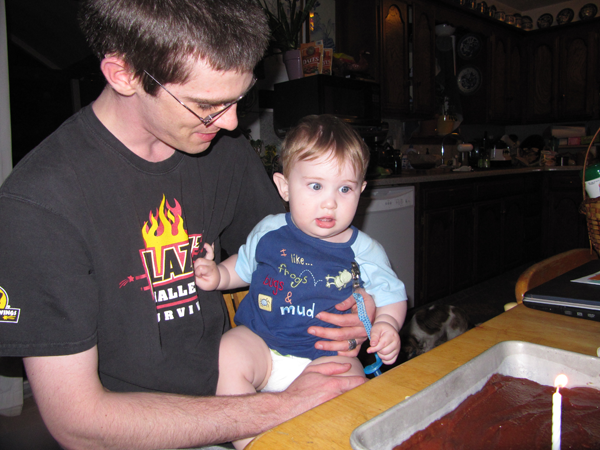 And the little man definitely enjoyed his serving of cake.
All things considered, a wonderful first birthday. Here's to the little guy who came into our life a cuddling lump and has now become a toddling whirlwind. I can't wait to see what other changes he'll go through in his life.